Guest table – Dinner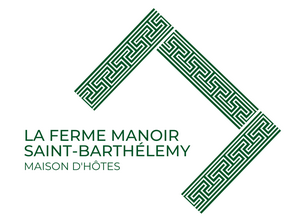 Since 2003, Patricia's good homemade dishes have been very popular at the table d'hôtes for dinner from 8 p.m.
Guest table – Dinner on réservation :  38 € drinks including –  20 € children 3-12 years
Gourmet plate on reservation: 24 €  for a cold meal: charcuterie, raw vegetables, cheese, dessert, cider or wine
The home gastronomy
For the dinner, Patricia propose her hosts' table , you will taste the specialitys of Normandy : natural farms' products and their inimitable savours:  the famous Porc of  Bayeux, farm chicken,  seafoods and fish from Port en Bessin….
Some evenings, by reservation, depending on the number of registered guests (6 minimum), you can have dinner if you have registered at least the day before. 
At the hosts' table, there is a friendly and welcome atmosphere. "Dining at the Host's Table cannot be missed. It presents an excellent opportunity to experience local food, home made and drink expertly prepared and presented by our charming and knowlegeable hostess,  Patricia Saunier.
The atmosphere is pleasantly relaxed and provides one with the opportunity of conversing with the other patrons which serves to compliment the fine fare." You will clink glasses for enjoying the savour of "Calvados" or "Pommeau
 Menu Dinner Hosts' table 
Apéritif
Calvados cocktail:
"Sun of Normandy"
***
Appetizers
Normandy sweet and savory tart
 salad
***
Dishes
Free-range grilled chicken 
Pan-fried potatos with Isigny cream 
***
Platter of 3 famous cheeses
Camembert ,Livarot
Pont-l'Evêque
***
Dessert
Apple Crumble and caramel ice cream
***
Drinks included
Apérif, Cider, apple juice, Wine, Calvados, Pommeau
     The menu varies according to the arrivals of fresh seasonal products