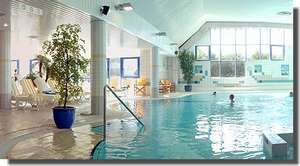 Relaxation and leisure
2 nights bed and breakfasts 1 dinner including drinks, aperitif.
1st day: walk in the Normandy countryside, visit a cider cellar with tasting cider, calvados, pommel …
2nd day (your choice):
* Horseback riding on the Landing Beaches
OR
* Entry to the Thalasso Ouistreham (pool seawater at 37 °, sauna, steam bath, jacuzzi, aerobics …).
Total stay: 182€ / person activities included
Contact: lafermemanoir@cegetel.net
Family Package
– 1st day: tour of the winery and cider apple orchards, with commentary by the owner of Chateau "Orchards Ducy" tasting Organic apple juice, cider, calvados and pommel … Evening: Dinner with aperitif (cocktail Norman). Patricia Saunier, the owner will tell you the historical events of the Manor Farm and St Bartholomew's Abbey of the twelfth century to the present.
– 2nd day: Discover the animals of Manor Farm Saint Barthelemy : water chicken, horse, cats, pony.
Optional tour of the Abbey of Juaye Mondaye commentary by a Premonstratensian canon.
Rates: Family package (2 adults / 2 children): 398€ one guest room /
460€ in a family suite of two rooms.
Includes: 2 nights bed & breakfast, 1 dinner, 1 picnic basket for lunch.
Contact: lafermemanoir@cegetel.net